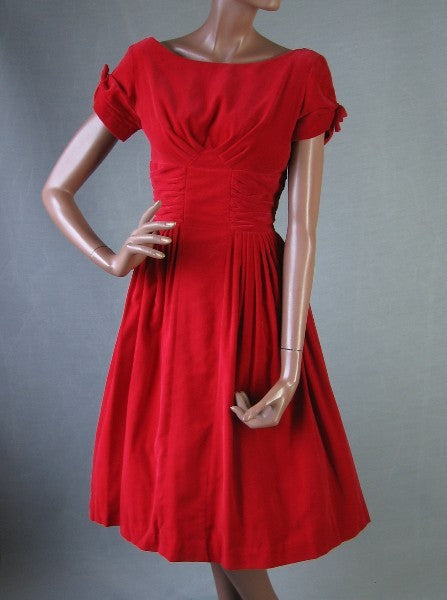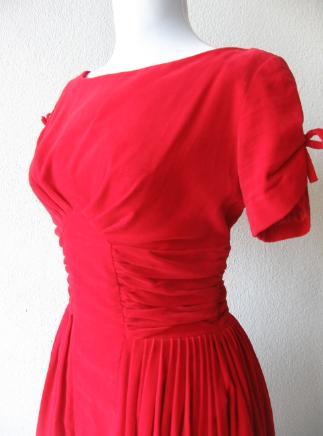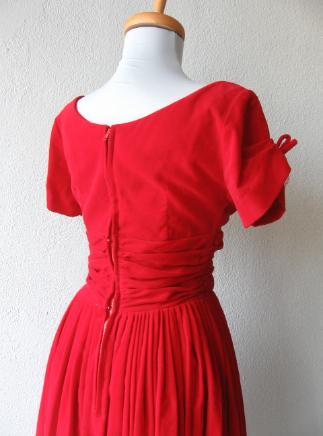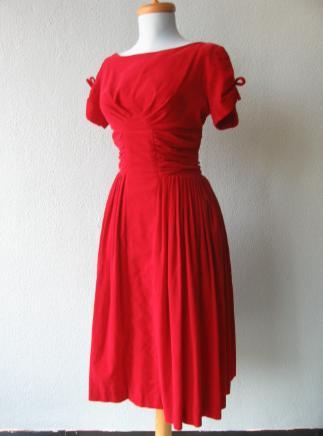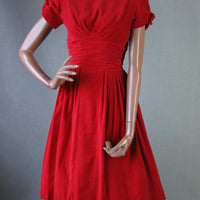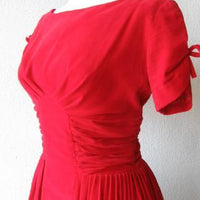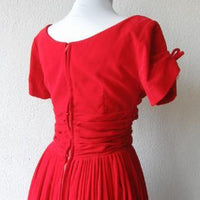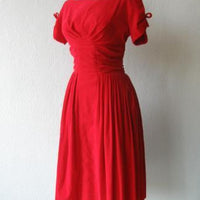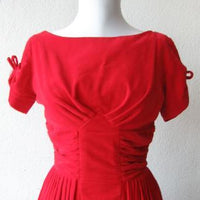 50s Women's Party Dress Vintage Ruched Red Velvet Full Skirt Extra Small VFG
This 1950s vintage party dress is so feminine and pretty, with great detailing! Fascinating design centers around the long smooth 3.5" wide column of fabric that extends from the hem up to the bust, where it ends in a vee shape. Ease for the curve of the bust is pleated into the top of the vee. A 4.5" cummerbund style waist is ruched on either side. Full skirt of soft knife pleats falls from the waist. Short sleeves are gathered up into pleats at the top and finished off with soft self fabric bows.
SIZE: No size label. The bodice was taken in at some point and the seam allowance is still there. If it was returned to its original dimensions, there would be approximately 4" extra at the waist and 2" at the bust.
| Measurements | Inches | Centimeters |
| --- | --- | --- |
| Bust | 39" | 99 |
| Shoulders | 15.5" | 39.5 |
| Waist | 23" | 58.5 |
| Hips | Free | Free |
| Sweep | 106" | 274 |
| Bodice length from shoulder | 15.5" | 39.5 |
| Skirt length | 25.75" | 65.5 |
FABRIC/COLORS: Cottony velveteen in a rich scarlet red.
TAG: No tags at all. I believe this was custom sewn.
CLOSURES: Metal zipper in back with three hooks & eyes for the cummerbund waist over the zipper.
CONDITION: As discussed above, the dress was taken in at some point. If you decide to let it back out, there may be crushed nap where the curent seaming is. If you decide to wear it with its current measurements, excellent condition – no stains, holes or tears seen.