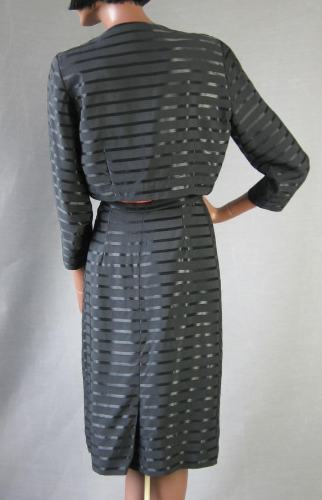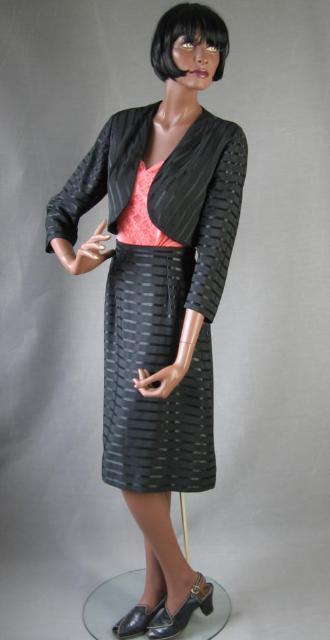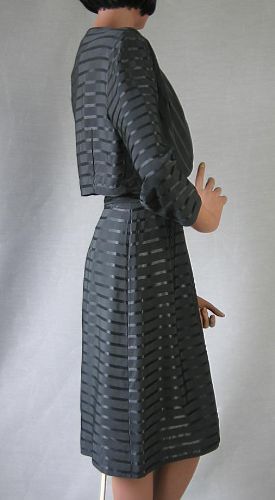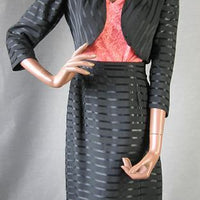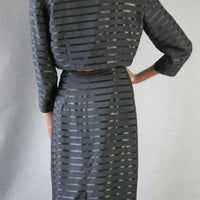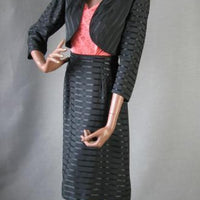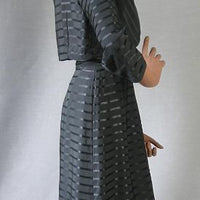 50s Vintage Women's Evening Suit by Frankin Salon Cropped Bolero Jacket and Skirt Outfit Medium VFG Striped Brocade
This late 1950s vintage suit is so elegantly feminine, without being the least bit frilly! The jacket is unlined, with gently curving lines, and fitted with darts. It has fine dressmaker detailing, such as small tucks in the fabric near the elbow for ease of movement. Sleeves are 3/4 length. The skirt is narrow, with a deep kick pleat in the back.
SIZE: No size tag. The bust measurement on the jacket is based on measuring from armpit to armpit across the back and then doubling; the jacket is designed to be open, showing the blouse underneath 
| | | |
| --- | --- | --- |
| Measurements | Inches | Centimeters |
| Jacket: Bust | 38" | 96.5 |
| Shoulders | 15" | 38 |
| Length | 15" | 38 |
| Skirt: Waist | 26" | 66 |
| Hips | 40" | 101.5 |
| Length | 23.5" | 60 |
 FABRIC/COLORS: The black fabric is, well I suppose you would describe it as brocade. The woven-in pattern is exquisitely simple, with a repeating pattern of narrow satiny stripes against the more light absorbing background.
TAGS: Original Franklin Salon Fashions, Chicago
CLOSURES: The jacket does not have closures - it is designed to be worn open a bit in front. The skirt has a sideseam metal zipper.
CONDITION: Very good. There are 2 or 3 pinholes in the jacket on the upper front. I suspect they are the result of wearing decorative brooches pinned to the jacket at various times. They are very difficult to see unless you hold the jacket up to the light. There is also a tiny (about 1/8") hole on the left front of the jacket near the bottom curve. It has been stitched with fine black thread. It is located at the edge of a satin stripe, and is so unobtrusive that I didn't notice it until I was doing this inspection. The suit should be wearable as-is. I don't see any stains or other problems. The listing is for the jacket and skirt. The slip shown under the jacket in the photos is not included in the auction.